Dining
Hotel Transit offers an extensive food menu that will tantalise your taste buds all day long. You can start the day with a hearty breakfast at our Transit Coffee House, where you can also enjoy a sumptuous lunch with some local and international selections on the menu.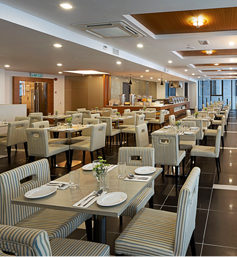 Transit Coffee House
A casual dining outlet that serves up tasty international selections and delicious local favourites, Transit Coffee House is the perfect place for private business meetings and small social gatherings; it's also an ideal spot to unwind after a long day of sightseeing.
Operation Hours
6:30am — 10:30am (breakfast)
11:30am — 3:00pm (lunch)